William Paca was an American politician, lawyer, and signer of the United States Declaration of Independence. He was born on October 31, 1740, in Abingdon, Maryland, to a wealthy planter family. Paca received his early education at home and later attended the College of Philadelphia, now the University of Pennsylvania, where he graduated in 1759 with a degree in law.
There has been some debate and speculation surrounding William Paca's ancestry, specifically regarding his ethnic background. Some historians and genealogists have suggested that Paca was of Italian descent, and that his ancestors may have originally been from Naples, Italy.
This theory is based on several pieces of evidence, including Paca's physical appearance, his surname, and his family's historical connections to the Italian community in Maryland. Some have pointed out that "Paca" is a surname commonly found in southern Italy, and that it may have been Anglicized from the original Italian spelling. Furthermore, his older brother's name was Aquila, meaning "Eagle" in Italian.
After completing his education, Paca moved back to Maryland and began practicing law. He quickly gained a reputation as a skilled and effective lawyer and became involved in politics. In 1771, he was elected to the Maryland House of Delegates and was later appointed to the Continental Congress in 1774.
In 1776, Paca was one of the 56 signers of the Declaration of Independence, which declared the thirteen American colonies independent from British rule. Paca was also a member of the Annapolis Convention, which called for a convention to draft a new constitution for the United States.
After the Revolution, Paca served as governor of Maryland from 1782 to 1785. During his term, he worked to improve the state's infrastructure, including the construction of roads, bridges, and canals. He also played a key role in the ratification of the United States Constitution in Maryland.
Paca remained active in politics and served as a federal judge from 1789 to 1799. He was also involved in the establishment of St. John's College in Annapolis, Maryland, and served as its first rector.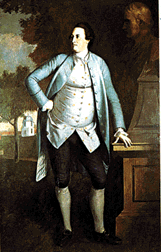 William Paca died on October 23, 1799, at his home in Wye Hall, Maryland. He is buried in the cemetery of St. Anne's Church in Annapolis. Today, his legacy lives on through his contributions to the American Revolution and his role in shaping the early history of the United States.