Food is an important part of any culture, and the Italian-American community is no exception. For generations, Italian-Americans have taken the food traditions from the Old County, and adapted them to life in the United States, creating a food culture that is all its own.
Some of the most popular and iconic Italian-American dishes, such as spaghetti and meatballs, chicken parmesan, and veal marsala, were actually created in the United States by Italian immigrants. They do not exist in Italy. Over time, these dishes have been adapted to suit the American palate and are now enjoyed by people of all backgrounds.
There are a huge variety of dishes and flavors to explore, so there is something for everyone to enjoy. Whether you're looking for a traditional red sauce or something more modern and unique, Italian cuisine is sure to always offer something new and exciting.

Italian American Food History
The history of Italian-American food parallels the immigrant experience, of course. I was recently asked to present a lecture on the topic of Italian Culture Through Food to the students at Florida Atlantic University, where I once pursued a degree in Italian Studies.
During my lecture, I traced the roots of Italian food history as it pertains to the Mediterranean Diet, the Slow Food movement, and Zero Kilometer sourcing. These principals form the very core of what it means to "Eat Like an Italian."
Italian-American food represents an evolution of regional Italian cuisine, but has been adapted to suit the American palate and the ingredients that were available in the U.S. during the great immigration of the late 19th and early 20th centuries. While there are many similarities between the two cuisines, there are also some key differences.
For instance, Italian cuisine is typically lighter and simpler, owning to its Mediterranean origins, while Italian-American cuisine is often richer and more hearty. Italian cuisine also makes use of fresh, seasonal ingredients, while Italian-American cuisine often relies on canned or frozen ingredients.
Traditional Italian American Food
As mentioned, traditional Italian-American food had its beginning with the first wave of immigrants from the Old Country. But the food changed a lot once the immigrants realized that the ingredients were different, and so recipes had to be adapted.
The classic example is Chicken Parmesan. In Italy this dish never existed and still doesn't exist. Sure, you can occasionally find it in a restaurant within the most touristic areas of Rome or Florence.

But these are exactly the type of restaurants you should avoid for this exactly reason. If you're on a vacation in Italy, you should make every effort to find authentic regional cuisine, and not a bad recreation of something that most Italians have never even heard of.
The influence of regional Italian cuisine on Italian-American food traditions is evident in the unique blending of traditional Italian recipes with local ingredients and cooking techniques. This fusion of cultures has resulted in a unique cuisine that is distinctly Italian-American. This includes the much-beloved "Sunday Gravy," which has a controversial history of its own.
Yes, many of the primary ingredients are the same, such as tomatoes, garlic, and olive oil, even if they are used differently. Garlic, for example, is NOT prominent in most Italian dishes. They use large chunks in cooking then remove them before serving. This gives a "hint" of garlic flavor without overpowering the dish.
Classic Italian American Dishes
While beloved in Italian-American households, there are some classic Italian-American dishes than bear very little resemblance to anything found in Italy. Some don't exist at all.
For example, "Shrimp Scampi." The word "scampi" in Italian is a type of crustacean similar to what we'd call "langoustines," which are a larger sea creature sort of halfway between a crawfish and a lobster. Therefore "shrimp scampi" doesn't even make sense linguistically. It's redundant.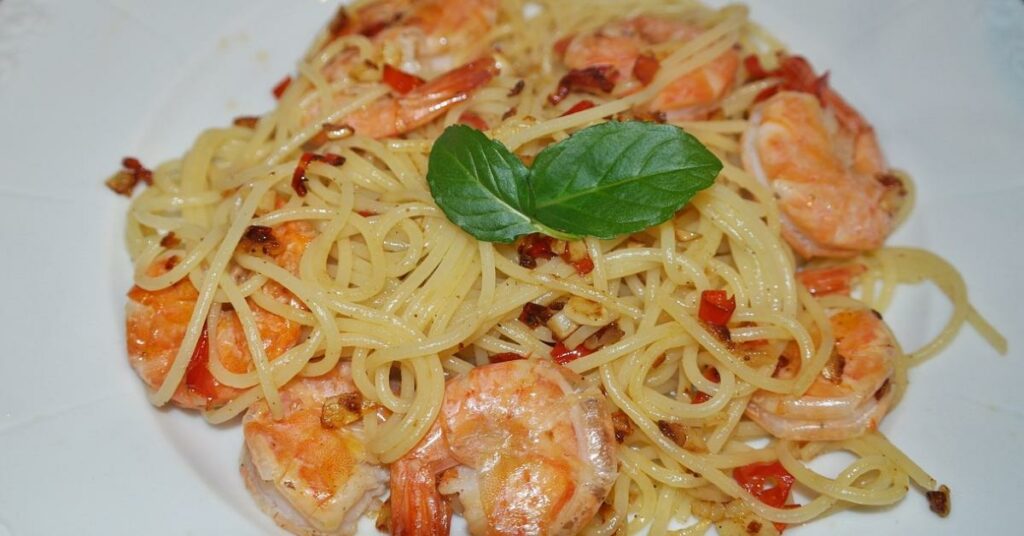 Well, none of that matters much. What actually matters is the food and the traditions that surround it.
Here's a brief summary of the recipes for a few of these classic Italian-American dishes:
Spaghetti and Meatballs: This dish features a plate of spaghetti topped with meatballs and tomato sauce. To make the meatballs, ground beef is mixed with bread crumbs, Parmesan cheese, eggs, and seasonings, then rolled into balls and baked or fried. The tomato sauce is typically made with canned tomatoes, garlic, onion, and Italian herbs, and simmered until thick and flavorful. The cooked spaghetti is then topped with the meatballs and sauce.
Chicken Parmesan: Chicken Parmesan is a popular Italian-American dish that features breaded chicken cutlets topped with tomato sauce, melted mozzarella cheese, and grated Parmesan cheese. To make this dish, chicken cutlets are breaded in a mixture of seasoned bread crumbs and grated Parmesan cheese, then fried until crispy. The chicken is then topped with tomato sauce and cheese and baked until bubbly and golden.
Veal Marsala: Veal Marsala is a classic Italian-American dish that features thin slices of veal sautéed in a Marsala wine sauce. To make this dish, the veal is lightly floured and then sautéed in butter until golden brown. Mushrooms and shallots are then added to the pan and cooked until tender. Marsala wine is added to the pan and the sauce is simmered until thickened and flavorful. The dish is typically served over pasta or with a side of vegetables.
Shrimp Scampi: Shrimp Scampi is a classic Italian-American dish that features sautéed shrimp in a garlic and butter sauce. To make this dish, large shrimp are sautéed in butter and garlic until pink and cooked through. White wine, lemon juice, and red pepper flakes are then added to the pan and simmered until the sauce is slightly reduced. The dish is typically served over pasta or with a side of crusty bread.
The Importance of Family Meals in Italian-American Homes
The family meal is a sacred tradition in Italian-American homes. It is a time for the family to come together, share a meal, and catch up on each other's lives. The family meal is also a time to teach the younger generations about their heritage and culture, and of course, this includes the food!
The family meal is an important part of Italian-American culture and it plays a significant role in the lives of Italian-Americans. It is a time to bond with family, share a meal, and learn about one's culture and heritage.
My Lecture on "How to Eat Like an Italian"
I used the PowerPoint to recreate the lecture that I gave to the students at F.A.U.
Any feedback would be very welcomed.